As you know, we are American Girl doll fans. Big ones. The girls play dolls with their friends whenever they come over. They love to play out on the lawn. I have an antique wagon I use for plants, and they quickly turn it into a "covered wagon" so they can play Little House on the Prairie.
So, as a big surprise and out of appreciation for all the hard work they do for our family, I ordered a new doll last week. Her name is Ruthie, for any fellow AG fans!
When she arrived, the lady at the post office got so excited, she had me open the box so that she could see the doll. Then she suggested I give it to them using a treasure hunt. I had already planned on it! I love making up clues, watching them hunt, and feeling like a kid while I run along. Its just so fun!
So while they played at the neighbor's house, I wrote clues, hid them all, then hid the doll box.
The girls were so excited to go on a hunt, although they had no idea what they were hunting for. I am blessed with very enthusiastic children. They go along with all of my ideas quite readily!
Soon they were chasing down clues. I could not believe how quickly they figured it all out, and they were soon hunting down the final treasure. The last clue was "Airplanes in and airplanes out, look all around it, then give a shout!" They thought it was the lake at first, but then realized it was the hangar, but on the outside. They found the doll box under a tree under some bushes. They got so excited. But then they saw the note that read "Its just some old plane parts of Dad's, but I thought the hunt would be kind of fun anyway. Love Mom." They were NOT fooled!
They tore open the box! (they could not believe the box was really what it said it was)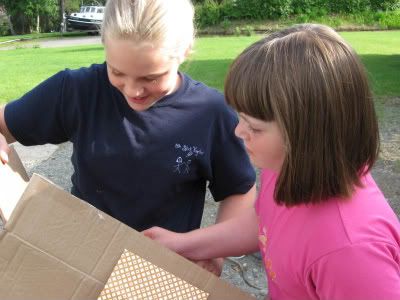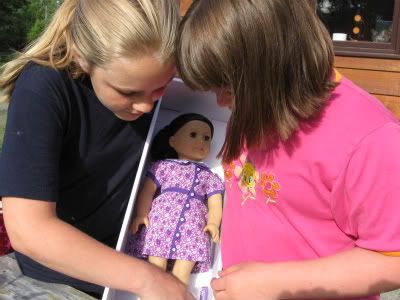 Here she is! She really is super cute!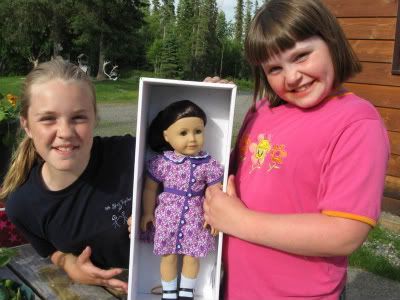 Penelope Kay. Notice new shortie hair cut.
I don't know if they will remember this day when they grow up. Will a doll, a treasure hunt, a grey Alaskan day turned a little bit brighter, and a crazy mom running around behind them with a camera stay in their memories of childhood? I dunno. But I know I adored every minute spending it with them. And it will always be one of MY treasured memories.